Samhain - A Celtic Halloween 2022
We have familiar faces, and new, songs and stories you love, and new ones just to keep you on your toes.
Visit our Samhain page for more information!
Covid Update
To protect you and our cast, face coverings are required.
Please see Covid Safety Update for detailed info.
We hope to offer a live stream of the shows for those that can't make it.
Valentine's Day the Celtic Way

Did you miss the premiere for our Valentine's Day Show 2021?
Or would like to watch again?
Tickets are by donation, and you can DONATE at any time.
"Valentine's Day - The Celtic Way"
Songs and stories of betrayal and death, and of course, Love. We'll present to you the story of Deidre of the Sorrows, and of the pirate Queen Grace O'Malley. Songs new and familiar. If you loved "Samhain" we think you'll also love "Valentine's Day - the Celtic Way," with some of the cast you've come to know and love from "Samhain." 
Tickets are on a donation basis, and you can DONATE at any time.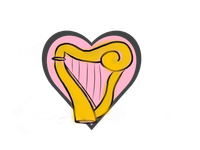 Celtic Rhythms is about anything and everything to do with Celtic music and dance. We bring you music and dance from Ireland, Scotland, Wales, Cornwall, Isle of Man, Brittany and Galicia. We offer concerts, dances, and dance and music instruction. Please visit our "Events" menu to find out about upcoming events.

Sign up to receive updates on new events and classes. We never share or sell your info, and you can easily unsubscribe if you ever get tired of hearing from us.
Celtic Rhythms was created by Aedan MacDonnell. Her love of Celtic music and dance inspired her to create events and shows centered around the Celtic world. Sign up for the mailing list and receive updates on new shows and events. Also, visit our sister site
www.HarpMuse.com
for music and information on the Celtic harp.