Samhain - A Celtic Halloween 2023
Ghostly greetings my ghoulish guests!
This is year 13 for "Samhain!" In the tarot, the 13th card is the the card of Death. It doesn't usually mean physical death, but that major changes are around the corner. 
Death is not a destroyer, but a collector. While western ideas about death can be pessimistic, tarot sees death as a celebration of what we have cultivated with our time.  Which gave me an idea for this year's show as you will read below.
The whiteness of the horse can symbolize the blank page and the new beginnings that can come with the death of old things; it is an illustration of optimism in the face of death. Which gave me another idea, as you will, yes, read below.
As I said in my previous email, many events this year prevented me from plotting and planning the Samhain 2023 show. With the short time left to put together this year's "Samhain," I had hoped for a smaller show in a house concert venue, but a live show this year just isn't in the cards. But fear not! All is not lost and the show will go on, as it did virtially in 2020 when covid shut everything down.
As Death celebrates what we have cultivated, it became clear that this, year 13, is the year for reflection. In that reflection, I decided, rather than go completely dark, to put together a video with highlights showing what we have done and how we have grown in the past 12 years. There may even be some behind the scenes blooper or two.
The video will be ready to view on All Hallows Eve. Wear your pj's, or a costume, invite your friends and family, bring your candied apples, maple syrup flavored popcorn, and help myself and the cast of "Samhain" celebrate our past 12 years together. The video link of "Samhain, Remembering the Past," will be posted in the next email and on the Celtic Rhythms website..
This is not the end of Samhain. The twilight of year 13 will allow for new growth, creativity and the spirit of "Samhain" an opportunity to germinate in the darkness and spring forth with new music, and new stories in 2024. 
In addition, as the white horse of the Death card symbolizes a blank slate and new opportunities - in my search for a house concert venue, the concept of "parlor concerts" came about from one of our ghoulishly lovely patrons. This then led me to a new idea of smaller parlor concerts throughout the year. So in addition to a brand new Samhain show in 2024, the possibility of smaller parlor concerts may arise from the ashes of this year's darkness.
Stay posted for the link to the Samhain 2023 video, and hopefully upcoming parlor concerts.
Slainte!
Aedan
Valentine's Day the Celtic Way

Did you miss the premiere for our Valentine's Day Show 2021?
Or would like to watch again?
Tickets are by donation, and you can DONATE at any time.
"Valentine's Day - The Celtic Way"
Songs and stories of betrayal and death, and of course, Love. We'll present to you the story of Deidre of the Sorrows, and of the pirate Queen Grace O'Malley. Songs new and familiar. If you loved "Samhain" we think you'll also love "Valentine's Day - the Celtic Way," with some of the cast you've come to know and love from "Samhain." 
Tickets are on a donation basis, and you can DONATE at any time.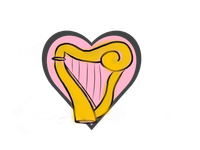 Celtic Rhythms is about anything and everything to do with Celtic music and dance. We bring you music and dance from Ireland, Scotland, Wales, Cornwall, Isle of Man, Brittany and Galicia. We offer concerts, dances, and dance and music instruction. Please visit our "Events" menu to find out about upcoming events.

Sign up to receive updates on new events and classes. We never share or sell your info, and you can easily unsubscribe if you ever get tired of hearing from us.
Celtic Rhythms was created by Aedan MacDonnell. Her love of Celtic music and dance inspired her to create events and shows centered around the Celtic world. Sign up for the mailing list and receive updates on new shows and events. Also, visit our sister site
www.HarpMuse.com
for music and information on the Celtic harp.